John Fox's, How, When & Where to Catch Bass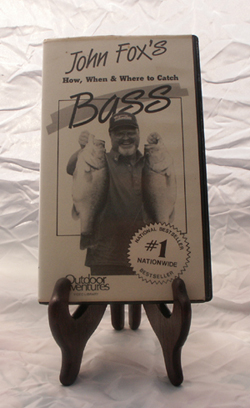 When you know you have found something good, really good, you become a champion of that product. You want to share your find with others. I have found such a video in John Fox's, How, When & Where to Catch Bass. Produced by Outdoor Videos in 1986, this two hour video has been a national bestseller for good reason. John Fox, nine time's national bass fishing champion and host of the popular ESPN's television series, Outdoor Adventures, methodically instructs the viewer in the nuances of bass fishing. If you have spent numerous hours viewing other bass fishing videos with grinning hosts in a fantasyland setting landing big fish after big fish, ask yourself this simple question. Did I learn from this instructional tape? Did I want to immediately rewind and start taking notes? Did I find myself nodding my head and thinking, "So that's how they do it." That was my reaction on viewing John Fox's video. I found a used video on the internet of How, When & Where to Catch Bass. Later I found John Fox's web site, www.trophybass.com. John, who is now 76, retired from television productions after 27 years. He presently runs a bass guiding service in Florida, and he sells his DVD from his site. Having been a fly fishing guide for almost twenty years, I read John's policies for running his guide service. I was impressed.
John's video is well organized. He begins with necessary information on understanding how a bass survives and adapts to his environment. He stresses boat handling techniques, and although his product endorsements are dated, I never felt like I was captive to a commercialized pitch. Essentially, as in trout fishing, John makes the point that 90% of the fish are in 10% of the lake, so it is essential that beginners learn to know where NOT to fish! The tape is organized by seasons so viewers may return to a season and review the information. What follows are just a few highlights from each of the four seasons John Fox covers.
Spring, regardless of the calendar date, activates bass when the surface water temperatures reach the low 50's. Bass begin staging in 20 to 40 feet of water off shallow banks, as they prepare to spawn. John recommends top water lures such as spinnerbaits, buzz baits, spoons, crankbaits, plastics, and the ever popular Jig and Pig. Each of these lures is covered thoroughly, including color selection. Crawfish, a mainstay of the diet at this time, should be imitated with lures such as Bill Norman's Deep or Shallow Little N in a crawfish pattern. One of the many tips John offers for spring fishing is to simply troll over likely staging areas with an electric trolling motor carefully monitoring the depth of the lure. Catch a few bass with a lure that is designed for a specific depth, and that is the depth you should fish for the rest of the day. Two truisms John offers for spring fishing are, "Bass live deep and eat shallow," and when the "turtles are in the coves, the bass will be there too!"
Summer arrives when the temperatures climbs to the low 70's. But as most anglers know, climatic changes and barometric changes can interfere with those weekends that anglers plan with optimism and hope for stable conditions. John teaches you how to fish successfully during those unstable conditions in the transition between spring and summer; after all, the fish may be picky, but they are still there. You just have to learn how to locate them and successfully pattern them. "When the barometric pressure is low, fish shallow. When the barometric pressure is high, fish deep." John methodically reviews tips and techniques for targeting bass during the summer. From points to structure, from the shady side to the darker times of day, John covers it all. I was especially intrigued by his endorsement of the Color Selector, a product I have read much about. Cool summer nights prompt a turn over of the lake's waters. In a matter of days, cooler waters from the bottom of the lake rise and force warmer water to the bottom. John Fox describes this phenomenon. The change is dramatic. Surface water temperatures go from low 80's to low 70's, and John details tactics to target fish.
Fall fishing is best described as searching for replicated patterns. John advises moving around, exploring, testing, and most importantly staying with a pattern that works. He recommends top water lures, buzz baits and Rat'l Traps fished in 2-15 feet of water. He focuses on shad patterns and fall locations where bass go on a feeding spurt in anticipation of winter.
Some of the most intriguing and informative tips that John shares are his successful winter fishing tactics. I was fascinated with his floating buoy markers and his vertical jigging tips. Finally, John Fox shares his secrets for fine tuning and rigging lures for all seasons. If you are serious about improving your catch rate, buy this video and start taking notes. This tape is everything you would expect from a two times Bass Champion of Champions and from a man who holds Florida's State Big Bass Record five times in two years. Enjoy.
Dave Archer
www.bassandtroutfishingdigest.com