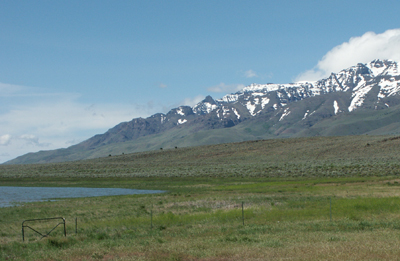 Reconnoitering and wetting a line in central Oregon involves lots of driving time, a lot of petrol dollars and tread wear. Pauline and I chalked up almost 750 miles in a circuitous road trip to discover central Oregon's mysterious desert lakes that hold Lahontan Cutthroat trout and Redband Rainbows. Traveling east from Chiloquin, we took the Sprague River Highway. The small community of Sprague River offers good black bass fishing and big browns, but the access is somewhat limited, and I will wait until summer to give a report. Fuel is expensive here. The next two communities are Beatty and Bly. This area is the jumping off place for the upper Sprague River and the Sycan River. That's Sigh-can for us out-of-towners. Both of these watersheds offer good fishing for small brookies and some decent rainbows. At Bly the Sprague Highway meets Highway 140 out of Klamath Falls. We continued on Highway 140. From a previous road trip last month I learned that bass can be caught on Drews Reservoir and at Dog Lake, which are west of Lakeview. We reached the town of Lakeview, which is situated on Highway 395 near Goose Lake and just a few short miles from the California border. My wife was born and raised in Oregon with family connections throughout central Oregon. Lakeview began a revisiting of old memories, seeing familiar stores and restaurants and recounting family trips to visit her sister when both of them had young children. Lakeview has a cowboy charm about it, but if you are a fly fisher, don't look for leaders in this town.
From Lakeview we traveled north on Highway 395 a few short miles and reconnected again with Highway 140 east to Adel. That's A-dell for you flatlanders. Adel is a combination store, saloon, gas station and RV park. The village does have its own post office, however. So, why would you want to venture off on this less traveled road? The answer is Deep Creek and Warner Lakes, which host crappie and trout. Although we have yet to visit or fish this area, all the literature praises the rainbow fishing in Deep Creek so I will return at a later date. Our goal for our first night camping was Mann Lake, forty miles northeast of Fields on a good gravel road.
Highway 140 drops down into the desert country of Nevada and joins Highway 292 at Denio Junction. Be sure to fuel up at Adel, Denio Junction or the hamlet of Fields. The last census count for Fields, Oregon was 10. It grows a bit in the summer months when family members return to the store, motel. My wife attended school in the one room school house in 1955. At that time it had no in-door plumbing. The uni-sex outhouse looked out across the desert and was the cleaning responsibility of the teacher, who created lots of giggles from her charges when she left her old undies as cleaning rags. Today finds in-door plumbing, a small addition and a community gym. Not much else has changed except there are fewer family ranches. Fields has the distinction of being the most remote place in the lower 48, and I am a believer. If you plan on visiting Mann Lake, bring your own water and shade. This is hot and desolate country, but the towering Steen Mountains create a stunning desert beauty with snow-capped peaks late into spring.
But drought years followed by hard winters can be hard on the Lahontan trout. Fortunately, this small and shallow 275 acre lake is prolific in bug life and fish grow fast and big. Denny Rickards, one of the top stillwater fly fishing experts in the country, lists Mann Lake as one of the "West's Best Trophy Lakes." I had heightened expectations. After a very wet winter, I was surprised to find the lake far below the high water mark. Mann is a natural lake that relies on seepage and run-off from the towering Steens directly behind it. The two creeks that feed it are tiny. It averages about eight feet deep and is subject to algae blooms during the summer heat. The winds are ever present but especially so in the spring. I had great difficulty launching and maneuvering my one-man raft so I fished from shore the evening of our arrival. Intermittent squalls had me grabbing my hat. I fished buggers and nymphs for three hours and caught nothing.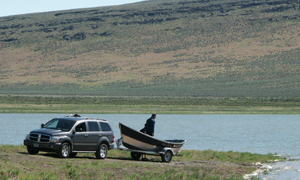 The next morning I was up at the crack of dawn. The wind was still blowing. I looked over to our only camping neighbors and looked at their collapsed tent and hoped that they had kept dry during the night. It took me a long time to row against the wind to the south end of the lake. I stopped rowing when the wind stopped. I had on Denny's Seal Bugger #1. I probably made twenty casts and caught a 16-incher and an 18-incher when I was caught in a gale and driven back to my campsite in a matter of minutes. I met two anglers struggling in a drift boat to make shore. They had changed off on the oars and both were pooped. They had fished the lake over a span of a number of years. This time they found the lake shrunk and fewer but bigger fish. If you want solitude and a chance at a big Lahontan cutthroat, stock up on supplies, check your spare tire, and bring your own water and shade.
Sitting in our camping trailer, while it rocked and shuddered against the wind, we looked up our next destination lake in the guide book, Fishing Central Oregon and Beyond. We pulled out about 2:20 and headed for the town of Burns via the Malheur Federal Refuge. We gassed up again in Burns and headed west on Highway 20 to Chickahominy Reservoir arriving early evening. I fished for a couple of hours without success. The next morning we awoke to another storm and white caps on the lake. We pulled out our Oregon Road & Recreation Atlas and picked Paulina Lake, south of Bend, Oregon on Highway 97. That's Pa-line-ah for wannabe Oregonians. The highway department had plowed the road a week prior. The campground host was setting up his satellite TV as we arrived. Snow covered the picnic tables and it was c-o-l-d-d! Dangling my feet in the water in my Water Strider for three hours resulted in one rainbow and nerve damage to my frozen feet. We spent the night and then headed home south on Highway 97 to Chiloquin, Oregon. On the way we couldn't resist checking out Davis Lake.
Davis Lake and Crane Prairie Reservoir will have to be revised in all the guide books. Trout populations have plummeted thanks to bucket biologists dumping large mouth bass into these traditional trophy trout lakes. I waited for an old man to row in against the blustery wind. (My age) He had caught one fish. When I asked rainbow or kokanee? He replied, "bass."
"Were you targeting bass today?"
"It's the only target now," he replied. He then opened his cooler and showed me a 7-pound bass.
I know where I will be fishing next, and it is less than two hours from my house!